Amazon's dominance in the e-commerce market has also made it a household name and a go-to destination for online shopping for many consumers. Its reputation for reliability and convenience has helped it to build a loyal customer base and drive continuous growth.
Lots of companies are competing with each other to make sure as many people as possible know about their products. One of the most effective methods for achieving this is to have a high position on Amazon's search engine results.
To become an effective amazon product description writer, create customer-focused titles, use product features to explain benefits, employ persuasive copywriting techniques, write persuasive and detailed bullet points, provide customer reviews and ratings, create compelling and optimized images, and stay up-to-date on amazon's guidelines.
What is a product page description?
Creating a successful amazon product description is not an easy task. It requires you to comprehend your buyers and make sure that the description is both informative and concise but also sprinkled with appropriate keywords. To help you out, here are a couple of tips that can guide you on your way to making the perfect Amazon product description.
Utilize strategic eCommerce SEO fundamentals — such as keyword analysis — to enhance your amazon item descriptions so that they are seen by the appropriate shoppers. Seo is not only relevant for search engines like google or bing anymore. The reality is, SEO is a huge aspect of your amazon plan. Buyers who are searching on Amazon have reached the last stage of the customer journey — they are prepared to purchase something.
An excellent SEO approach will optimize your amazon item descriptions so that your products appear at the top of the search results and can be bought in just one click.
Are you ready to take advantage of customers' readiness? This is what must be accomplished.
1. Think about who you're writing for before composing your explanations
Prior to taking up your pen, you should think about the people you're writing for. You must contemplate who purchases your product, why do they buy it, and how they use it. The more information you can gather on these points, the better.
If you have conducted a thorough market analysis, then probably you understand your intended audience already. However, if more knowledge is required, looking at customer reviews can be helpful. Additionally, searching Google with the product name may bring up blogs or social media posts of people employing analogous items. Once you've looked into the details of what you're selling, you should adjust your product description accordingly. This will affect the data included, the choice of words, and the general feel of it.
Utilize effective marketing techniques, such as speaking about features and advantages. As most amazon product descriptions are presented close to pictures of the items and technical specifications, you should focus more on emphasizing benefits rather than providing an accurate visual description.
2. Become acquainted with the regulations of Amazon
Before you start composing your product description, bear in mind Amazon's regulations. They stipulate that the intention of this is to help the customer comprehend the product. As such, you cannot include some things such as item condition, availability info, reviews/quotes, promotive material or Html code.
You can refer to seller central for a full list of Amazon's product description rules and also for the word count limit of about 300 words, which is widely accepted. Some sellers are willing to take risks and put prohibited material in their product descriptions.
Examples of this include saying «limited quantity left» or adding pieces of reviews. This is a very hazardous move and could result in the creation of a high-performing listing that gets removed. In addition, it could even lead to a suspension.
3. Use Simple and Straightforward Product Titles
When crafting amazon product descriptions, quality is more important than quantity. Buyers don't want to examine a huge section of text; they need the major details stated in a straightforward and succinct manner.
Here we have two product descriptions to observe.
In the initial one, the retailer has listed all the necessary information — its intended use, major features, and some advantages. However, they have clustered it into one long passage which makes it hard to identify data quickly and may lead customers back to the search results page.

The second example is far superior. In reality, it's a perfect example of structuring your product description. It contains all the necessary information in an easier-to-read format. The bullet points make it simple to skim and the headings break up various components. Considering that buyers usually want to be quick about things, this strategy should be more successful. Lastly, take a look at what other companies — especially those doing the best — are doing in regard to Amazon product descriptions.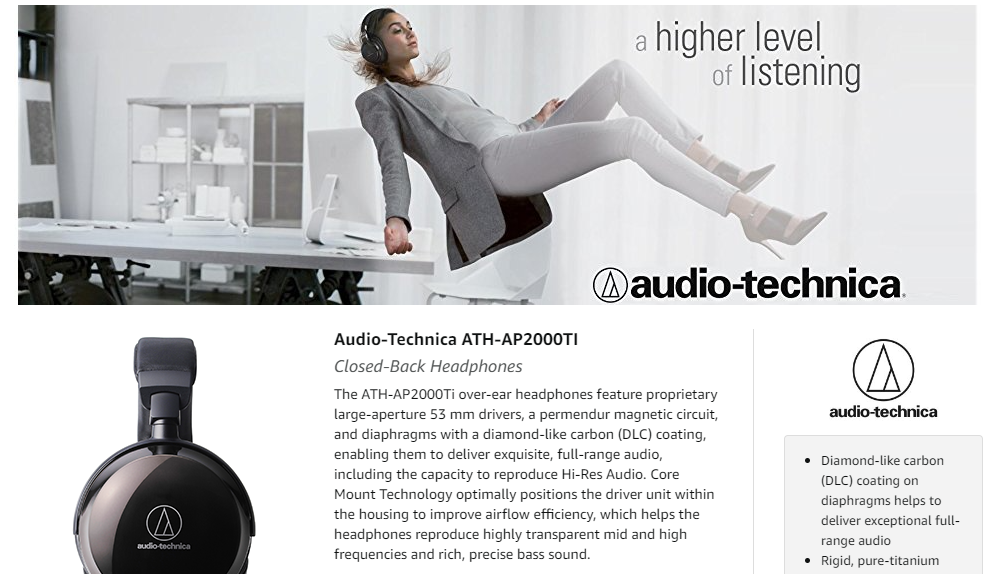 By looking at those descriptions that have helped products reach high rankings, you can learn which types of keywords work best for different items. Also, you can gain insight into how to arrange, phrase, and develop amazon product descriptions that will appeal most to your target market and get positive results for customers too.
4. Make your content readable and scan-able by using bullet points and leaving ample blank spaces
When someone is browsing through items on the internet, they may be assessing several items or glancing at the eCommerce choices while in a physical shop. The point here is that: no one has time to sort through cumbersome product descriptions or read long passages of text.
Compose amazon pds that are easy to skim so individuals can seek out the particular information they need. Here are some tips: employ bullet points for listing significant features alongside related advantages inserting line breaks between brief paragraphs to increase white space.
Be sure to structure your pds according to the key features and advantages first, then you can add in sample use cases or less relevant details at the end. Having a uniform structure for all pds will make sure they are easily readable and identifiable with your brand.
5. Getting past the constraints of writing descriptions can be done with the help of EBC
Ebc (explanation-based composition) is a technique that helps writers overcome the limitations of description writing by providing explanations for what is being described. It breaks down complex topics into simpler terms, enabling users to write clear, effective descriptions. By using ebc, writers can create more meaningful and detailed descriptions of their subject matter.
If you have an item or brand that has a particularly striking tale which is hard to present in your usual product description, you should look into enhanced brand content (ebc).
This option allows you to select from a range of static design templates, providing more space for images and text on your listing. This makes it ideal for exhibiting the advantages of your products and is likely to boost sales. It's no wonder that this is the case — customers get more information about the product and can make wiser buying decisions.
At this moment, ebc material remains available to all without cost, although it is projected that vendors might have to shell out for it eventually. Vendors must also be enlisted in Amazon's brand registry in order to make use of ebc.
6. Good SEO practice for Amazon
If you want to be successful in selling your product on Amazon, it is essential that you craft a product description that is both appealing to customers and optimized for maximum search visibility. For this purpose, you should be strategic when incorporating keywords into the description — ensure that they are placed in a natural and organic way. Try taking four or five of your highest trafficked keywords and using them as bullet points.
This way, you can create an Amazon product description that satisfies both Amazon's algorithm and the needs of your customers.
What is the process behind Amazon's search engine operation?
Amazon strives to provide its customers with the products they want as quickly as it can, which is in line with the company's aim of being the most customer-oriented business on the planet. Amazon is quite hush-hush when it comes to what affects its algorithm, but there are some recognizable trends that our information and observations from others in the field suggest.
The algorithm considers a few things when deciding how products are ranked, such as keywords:
Are the search terms buyers look for included in your listing? Do your items convert to sales well? Are customers satisfied with what you offer and the services provided? Is the pricing of your products competitive? Is there a history of sustained sales? Do customers get their orders in a timely manner?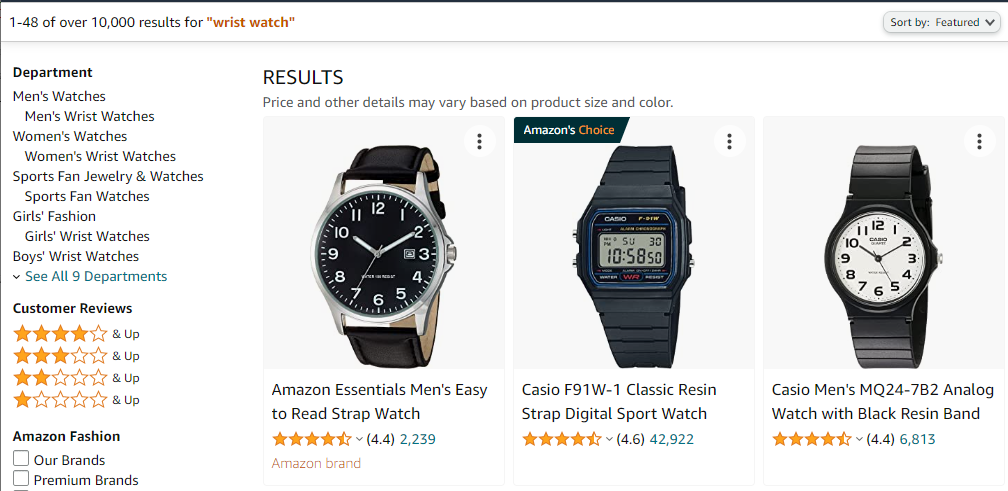 To reach the top of Amazon search, one needs to put some effort into it and think analytically.
AI writer for creating Amazon product descriptions
Using AI can be advantageous when producing item descriptions for sites such as Amazon. Natural language processing (NLP) technology or AI writing software can generate descriptions that are optimized for search engines and insightful and engaging. Consequently, this will improve the visibility and purchases of the item.
Before settling on a specific AI tool, you need to experiment with a variety of AI tools to check which one works best for you, then optimize them for SEO so that they have an improved search ranking.
Furthermore, it is important to remember that AI-generated descriptions should be treated as a foundation — editing them accordingly to make them more suitable for the product at hand.
It is important to go through each AI-generated description and review it to make sure that it is accurate and captures the unique features of the item as well as replicating its brand voice.
Write an Amazon product description with ai: AI writer VS human writer
TextScout AI Writer: The latest AI-powered writing tool comes with a neural network-based AI and it automatically analyzes your content. Just input your desired topic and let it do the rest. It can create quality content fast if you set a topic. The AI Writer can produce highly-profitable content for you by using a neural network-based AI and its vast knowledge base. If you are busy, it's a perfect tool for you. Try it now!
TextScout Human Writer: Are you feeling weighed down by the need to think up fresh and interesting content for your website or promotions? Look no further than human writers! Our team of talented authors carries a great deal of experience in penning stirring words that captivate audiences. Whether you need product summaries and blog articles, social media material, or ebooks, our experts have the know-how to bring your vision into being. Not only that but our swift turnaround times and reasonable rates make us an ideal option for hardworking individuals and businesses.
Get in touch with us now to find out more about how we can help your content reach new heights!