Keyword groupings can be done manually by creating a list of keywords and grouping them together based on their similarity or relevance to each other. For example, a group of keywords related to the topic of "dog training" could include "dog obedience," "dog training tips," "puppy training," and "dog behavior."
Another way to do keyword clustering is by using a free tool that automates the process. These tools use algorithms to analyze a list of keywords and group them together based on their similarity or relevance to each other. This can save time and effort, as it eliminates the need to do the grouping manually.
There are several benefits to using keyword (topic) clustering in SEO
First, it can help to identify new topical ideas that may not have been apparent before. By grouping similar keywords together, it becomes easier to see patterns and connections that can be used to generate new ideas for content and optimize existing content.
Second, keyword clustering can improve the effectiveness of on-page optimization. By organizing keywords into clusters, it becomes easier to ensure that the right keywords are being used in the right places on a website. This can include the page title, meta description, headings, and body content.
Third, keyword clustering can improve the targeting of off-page optimization efforts. By grouping keywords together, it becomes easier to identify which keywords should be used in external link-building and social media campaigns. This can help to drive more relevant traffic to a website and improve its search engine rankings.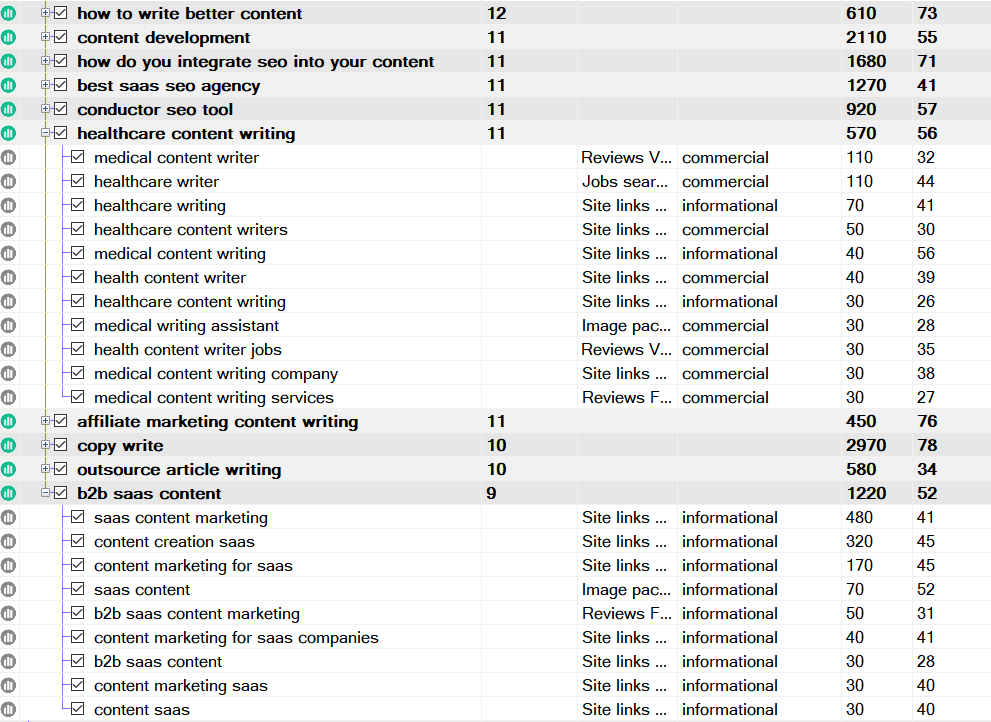 What are the Benefits of Utilizing NLP Topic Analysis?
Google has dedicated years of research to teaching AI models to figure out the worth of content and to forecast which website will effectively provide its searcher with the correct information.
When you cluster your web pages by keywords, it demonstrates to Google you are an expert in your market and that you have quality and a wide range of content.
It also gives the search engine's content indicators the blocks of content they are trained to recognize and prioritize in query outcomes.
You need to broaden your thoughts when it comes to your website's content through keyword clustering. It is the way to go for successful SEO. If you wish your web pages to be on the top search results, it's time to keep up with Google and generate a topic cluster. This is essential in today's SEO. By just concentrating on individual keywords, you will not achieve the rankings you desire on search engine results.
Using topic clusters provides multiple advantages including making your content more user-friendly and aiding readers in finding the content that they are looking for. Here are some of these many benefits.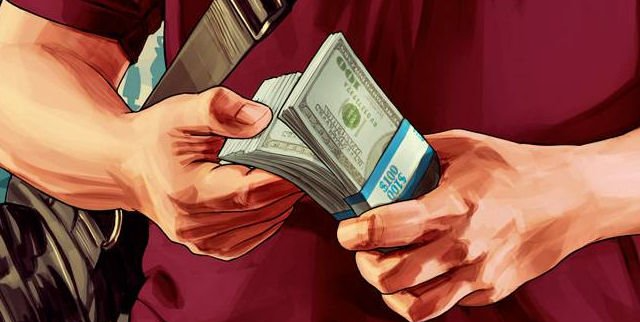 Raise the position of both long and short keywords
Implementing a topic cluster increases your probability of reaching the top of the rankings for long and short-tailed keywords, which are often more tricky to place for. Make sure that a rise in visitors to one page leads to better performance across the whole cluster.
Increase Your Google Organic Traffic
If you optimize for search intention rather than a singular word you can increase your results. Make it easier for web crawlers to understand how your content is associated with Google's E-E-A-T metrics.
Get better and faster results for SEO/SEM
Topic clustering can help you improve your SEO strategies faster and start to rise up the ranks quicker than other methods of SEO.
Create more opportunities for internal linking
By creating more opportunities for internal linking on your site, you can help visitors navigate through different pages with ease and make it easier for them to find what they are looking for quickly and efficiently. Additionally, when search engine spiders crawl through the web pages on your site, they use internal links to establish an understanding of how the pages on your site relate to each other and rank them accordingly. To create more internal linking opportunities on your website, focus on adding relevant links within every page's content. This means creating inbound links (links that point inward to other pages) as well as outbound links (links that point outward) whenever appropriate.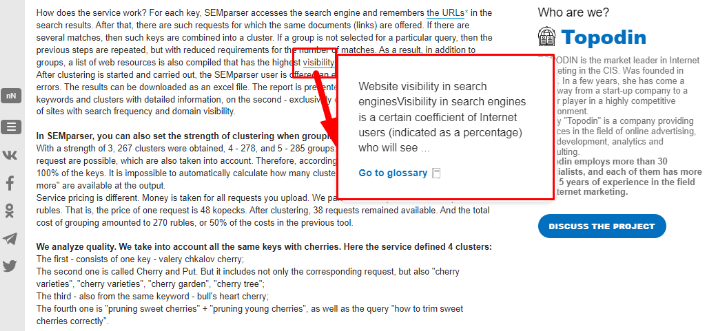 When choosing which keywords and phrases you should use for internal links, keep in mind that link relevancy plays a key role in SEO rankings — so it's important to choose related words within each page's content that direct readers toward other relevant topics and information that is valuable or helpful to them. Furthermore, ensure all anchor texts are descriptive — meaning they accurately describe where a link will take the reader — so you enhance their user experience when clicking through different pages on your site.
Build Authority in Your Industry Niche
If you're looking to become a leader in your industry, it's important to build authority in your niche. Becoming an authority can help you gain recognition, build trust with customers and colleagues, and open up new opportunities.
By investing resources into obtaining certifications, creating content on various channels, publishing material related specifically to one's area of expertise, speaking at conferences, and networking within one's s field — anyone can establish themselves as an expert in any given niche!
Focus on building authority in your niche by doing deep niche SEO topic research.
Improve the content by adding context and relevance.
Using multiple, correlated words can optimize your search query and give your readers more insight, topical ideas, and importance to your material. Look into Google search data, and related info to encompass all user objectives.
Forming better habits for keyword research.
To be able to perform successful keyword clustering, one must upgrade their keyword research abilities and establish improved keyword research habits.
Your Competition: All right, this isn't a sanctioned method, however, scanning your competitor's blog can be a source of new topics. What makes this technique so advantageous is that you can determine which blog topics got the most comments and shares. Look for related topics for your blog posts, but modify them and make sure your pieces are even more remarkable than the originals.
What is the best Topic Research tool in 2023?
There are various useful resources available that can assist you in finding out the actual queries that your audience may have on the internet.
The Google Keyword Tool can do more than just give you ideas for blog topics — it can work with other tools to help you figure out ones with a lot of monthly searches. As an example, if I put "mortgage" into the Google Keyword Tool it might let me know that creating a post that reviews the best mortgage and financial calculators could be profitable due to its high search volume. It could even help you gain inbound links to your website.
One approach to increasing activity on your website and gaining dedicated followers is to answer questions regularly posed by people online regarding your industry. Quora is an excellent source to uncover these normally asked queries. All you need to do is enter a term into the search box and gaze at the associated queries people ask in relation to that key phrase. You can also click on "Top Stories", "Trending", and "Questions" to go even deeper into the theme.
TextScout Keyword Clustering Tool
Organizing your keywords into clusters entails sorting them according to their similar meanings. A "keyword cluster" is a set of associated terms that all fit around the same topic and can be gathered on one page.
All you need to do is upload your list of keywords into Keyword Insights and we will check the output of the search engine to recognize related keywords that have the same websites in their searches.
Scoop.it
Scoop.it is an awesome resource for discovering interesting material relating to a certain theme that is already compiled by other people. Research what industry pros are talking about and give your own perspectives and understanding. By utilizing Scoop.it, you can also handpick content yourself and publish it on your social media sites or even attach a stream on your page that highlights the topics you select.
With a content organization instrument, you can Increase trustworthiness with readers and create recognition, establish thought supervision and heighten impactful associations, and obtain information from mainstream media to special periodicals.
Cluster AI
No matter your geographical location, cluster ai is a good option for anyone seeking an easy-to-use keyword research tool. Its interface is intuitive and its results are informative, but the features it offers are limited and there's no extra data for the keywords it produces. It's a nice, straightforward tool to get started with, but sooner or later you'll probably want to look for something else that can provide you with more options in keyword research.
Semrush Topic Research Tool
It is clear that the Semrush topic research tool can be an excellent way to conduct research on a topic before creating content. Through the use of various search parameters and features, you can find a profitable topic that will yield quick results. You are able to prioritize topics based on your interests such as search volume, difficulty level, and efficiency. Moreover, you can compare your competitors in order to identify areas where they may be weaker than you and capitalize on those opportunities. Additionally, utilizing popular headlines and questions related to the topic or subtopics is an invaluable resource for creating content briefs prior to writing. Keep in mind that this tool is part of the content marketing platform and is only available with a Semrush guru plan subscription or higher.
Ahrefs Content Explorer
Content explorer provides an invaluable resource for uncovering content opportunities. With it, you can input a topic and extract a range of results that are filterable by domain rating, word count, estimated monthly organic search traffic, language, number of linking domains, and more. This makes it the perfect tool for finding low-hanging fruit in terms of content that your website could easily rank for without having to build up many backlinks.
Eliminate the uncertainty associated with content production
Gaining a deeper understanding of keyword intent is essential to creating effective content. With TextScout keyword insights, you can easily identify when topics should be split into more specific sub-topics. For example, if you have the keywords «architect fees» and «how much do architects cost?» you can use our live search results to group them based on what's ranking to determine whether it would be best to target both on the same blog or create two different pages. This will enable you to quickly and efficiently create content that stands the best chance of ranking in the SERPs.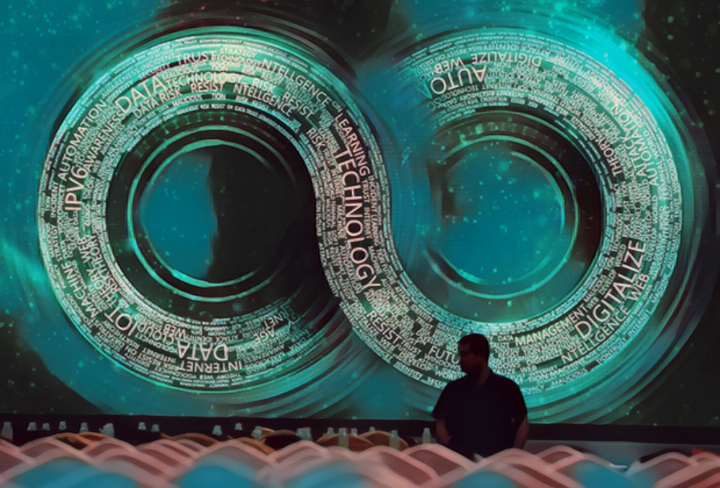 Learning the proper procedure for keyword clustering
Now that you're familiar with keyword clustering and comprehend its significance to your business, let's take a gander at several key pieces of advice on the proper way to conduct keyword clustering and form your subjects into clusters.
Compile a list of relevant keywords. To begin, you have to assemble the keywords that your competitor's content is currently ranking for. This is beneficial in finding related words that can be used in your strategies and gives insight into the industry terms that will be relevant in the future.
Categorize your keywords into groups. After gathering the initial data of keywords, you can start to organize them into groups based on what kind of search intent each keyword has behind it.
Establish & optimize pillar pages for your grouped keywords. The classified lists of keywords help you devise plans (topical ideas) for your content going forward. Organizing your topics into clusters or «pillar pages» enables you to optimize according to SEO standards and best practices.
Locate content gaps and develop a strategy. By examining the keyword research, determine if there are any gaps in content between competitors that could be taken advantage of and lead to more online market power by creating a differentiating strategy from everyone else's technique and finding an opening in this niche area.
Tighten your keyword clusters with blog content now that you have segmented out the keyword clusters, produce blog content supporting these clusters, and strengthen your primary keyword accordingly so as to capture the search intent that you are aiming for when it comes to ranking higher on the search results page. Create a robust information repository that encompasses broad topics.
We simplify the process of creating topical models
Our NLP-driven approach makes it straightforward to analyze the semantic relationship between keyword clusters. This provides you with an understanding of how close specific clusters are to one another, thereby enabling you to craft a well-structured content calendar around a particular theme. Moreover, hub and spoke insight is part of clustering insight. There is no need to separately select.
We exist in the realm of Google!
The Keyword Golden Ratio (KGR) is When it comes to content marketing, relevance is key. You've probably heard the saying «content is king» — but if your content isn't relevant to your target audience, then it doesn't really matter how great the content is. The best way to ensure that your content resonates with your audience is by enhancing the context and relevance of what you create.
One way to do this is to start by focusing on topics that are pertinent to what you do and who you serve. Construct influential content from ideas that Google has already ranked. By creating content that answers questions they have, helps them solve problems, and provides valuable guidance, you can ensure that they will be more likely to pay attention when it appears in their news feed or inbox.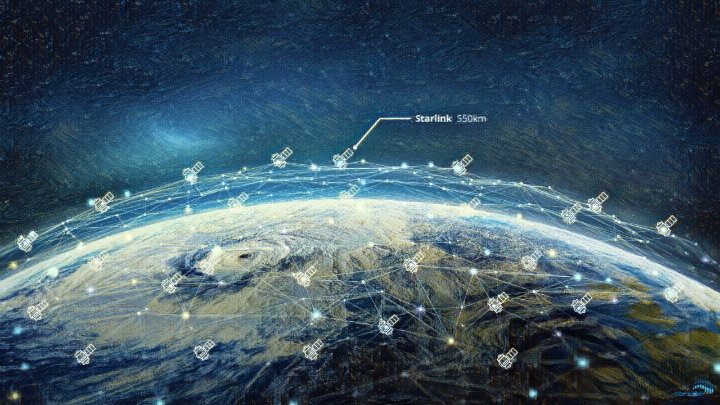 Another way to enhance the relevance of your content is by tailoring it for each platform you use for distribution. Platforms like Twitter have different requirements for post lengths — so make sure you adjust accordingly so that nothing important gets lost in translation when sharing across different channels!
Additionally, think about ways you can make the most of visuals on Instagram or videos on youtube versus just relying solely on written words. Finally, remember that no matter how much effort you put into creating relevant content — if there's no call-to-action (CTA) then people won't know what action they should take next in order to benefit from what they've just learned.
At the end of the day, ensuring relevance will help increase engagement with your target audience while also making sure they keep coming back for more helpful information from you! So take some time this week and work on optimizing both the context and relevance of all future pieces of content — we guarantee it will be worth it in terms of increased engagement and loyalty from those who follow along with whatever journey or cause you're championing.
Our system is designed to provide an accurate assessment of the keyword landscape by leveraging the power of google's search engine results pages. We analyze SERP data in order to group keywords together, with a customizable threshold of 40% or more URLs in common.
All this combines to create an effective way for SEO professionals to identify and capitalize on new opportunities for enhancing a website's rankings and traffic.
Frequently Asked Questions
What is Keyword Golden Ratio?
The Keyword Golden Ratio (KGR) is a Data-Driven strategy for finding long-tail keywords underutilized in Google search results. The KGR is a reliable indicator of underutilized long-tail keywords that are likely to receive more search traffic in the future.
Do the Benefits of Keyword Clustering Outweigh the Amount of Effort Needed?
Using keyword clusters is a more modern way of doing SEO and is advantageous in competitive markets. Google is equipped with tools like natural language processing and indexing, which lend themselves to it knowing all of the many phrases used to search various topics. It also knows how all of the searches and their minuscule variances are connected.