SERP tracking tool helps you understand your site' s SEO position while comparing it with your competitors. It also helps you find more keywords with similar traffic and allows you to choose good keywords for your website.
In this article, we will present a selection of popular SEO rank-tracking tools and reveal the scope of their capabilities based on various pricing models. We will also provide you with our expert recommendations on the best rank tracker software for keyword analysis.
Daily Rank Tracking Tools
Monitoring daily keyword performance is swift and straightforward. The stats are shown on the main dashboard or sent directly to you every day with an automatically generated report. You may also obtain keyword performance reports as and when you require them in real-time.
This automated approach helps you spend less energy collecting data manually and constructing tiresome reports so that you can concentrate more on refining your SEO approaches and daily budgets in order to increase rankings over time.
If your keyword positions are going up and your organic traffic is growing, then it implies that your SEO efforts are paying off. Conversely, these SERP tracking apps will alert you instantly when your keyword rankings slip.
You can execute the remedy promptly, thus avoiding any losses in revenue from sales.
The best keyword position tracker – summary
Textscout – This rank-tracking software is optimal for most users. It contains a robust report generator, as well as additional tools, and free-to-use
Semrush is optimal for individuals and groups in the professional SEO arena, as well as for enterprise-level customers. It offers a wide range of tools that can manage any aspect of SEO.
Mangools – Best for beginners who don't need a powerful position-tracking application.
Semrush is an excellent tool to watch the rankings of your keywords. It is a comprehensive SEO suite that many digital marketers rely on. Through Semrush's position tracking function, you can track the development of your website's keyword rankings. This tool also shows keywords that have SERP features such as featured snippets, Google site links, and knowledge panels.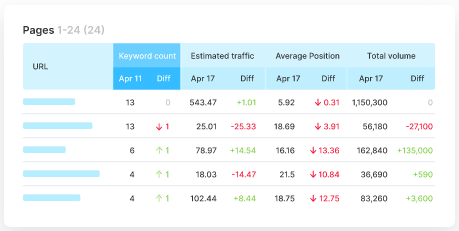 Semrush provides a general overview of your rankings, showing the number of queries in the top 3, 10, 20, and 100. It also allows you to track your ranking improvements over time.
Semrush is an expensive all-in-one SEO and marketing solution, best suited for large SEO agencies.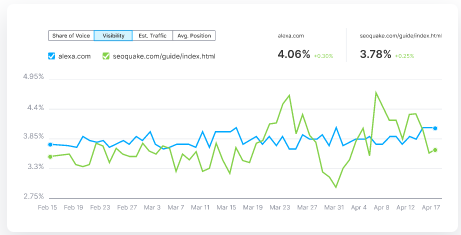 Organic traffic insights offer a large selection of data to analyze, starting from the number of keywords being ranked to changes in traffic over the last 12 months and even the cost of traffic. Furthermore, it provides the contrast between traffic that's branded and not along with the most popular organic keywords. In addition to this, a graph of organic key term trends can be seen, proving how many keywords have reached places 3–10 and up to 100 historically. The free plan consists of 10 requests given daily and likewise, a 7-day trial can be employed.
Mangools is a web-based service offering a range of tools for tracking online search results. This tool allows you to promptly observe the top gainers and losers in SERPs.
Major features: Mangools software determines the special performance index rating to demonstrate your ranking achievements.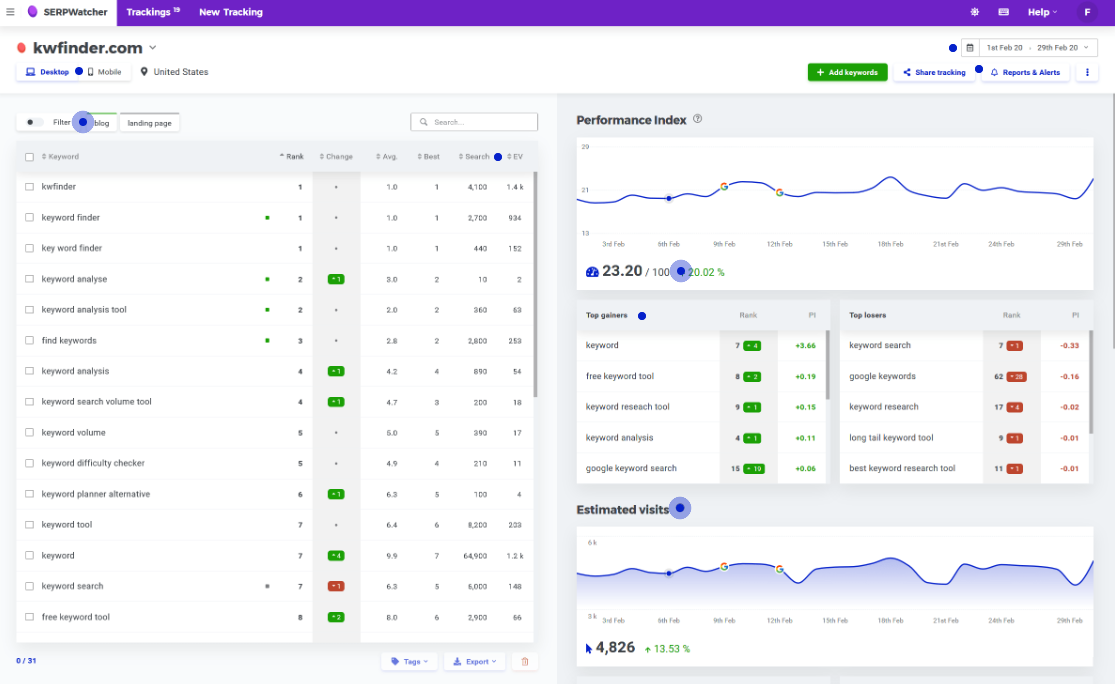 The Mangools keyword position flow board will give an indication of how many keywords have risen or gone down on the SERP. A smaller version of this dashboard is also available to show keywords' rankings. Serpwatcher will indicate the success of the keywords by identifying the target region and user device type. Besides, Serpchecker will give a graphical demonstration of the SERP, as well as determine the rank and quality of a page (for example, authority and links).
Additionally, Mangools' tools for keyword research include related searches, autosuggestions, and related questions - and it has a system for quickly sending out SEO ranking reports.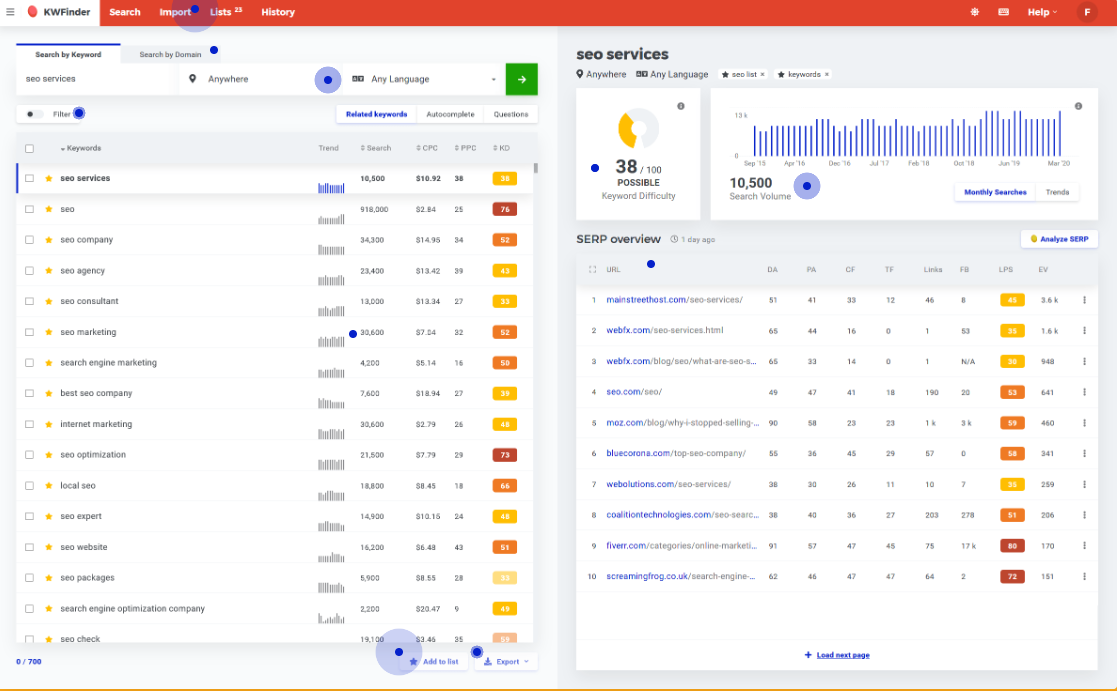 Mangool's pricing plans differ depending on how many keyword lookups you can do within a 24-hour period; with the basic plan, you can make up to 100 lookups, while the premium plan yields up to 500 and the agency plan yields a whopping 1,200. Additionally, the number of tracked keywords range from 200 to 700 for the basic plan and 1,500 for the agency. As a bonus, this SEO platform also provides a reasonably sized free trial period.
Moz SEO Rank Tracker can be used to track and examine how well a website is placed in search engine rankings for certain keywords. It offers info concerning its visibility, what words connect customers, and its location compared to its past performance.
Moz provides no-cost SEO tools that can be started with, followed by the Standard package, which costs $99, this supports three campaigns, 300 search words, and 100,000 web pages crawled, as well as other features. There are also additional levels open for purchase, such as Medium, Big, and Premium for $179, $299, and $599 respectively, which include white label reporting and increased keyword and activity coverage, tailored to larger agencies.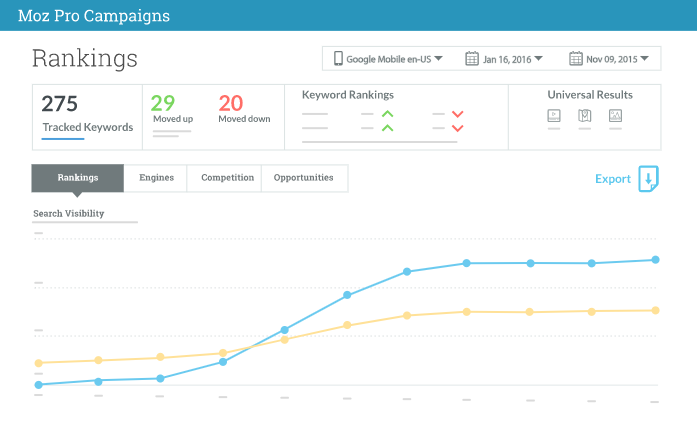 Moz Pro is a great tool for beginners looking to track SEO rankings and gain insight into website visitor behaviors. It offers an array of training tools to make the learning process easier.
Ahrefs is a superb rank monitoring tool, much like SemRush, which is an extensive SEO and digital marketing platform.
Using its ranking tracker feature, you can link either your website or Google Search Console account to Ahrefs to upload projects. Once you have done so, you can put all of the keywords you'd like to be observed on your Ahrefs dashboard. Ahrefs will give you a general impression of your search engine positions with details such as visibility rate, average position, traffic, SERP aspects, and mutations in rank.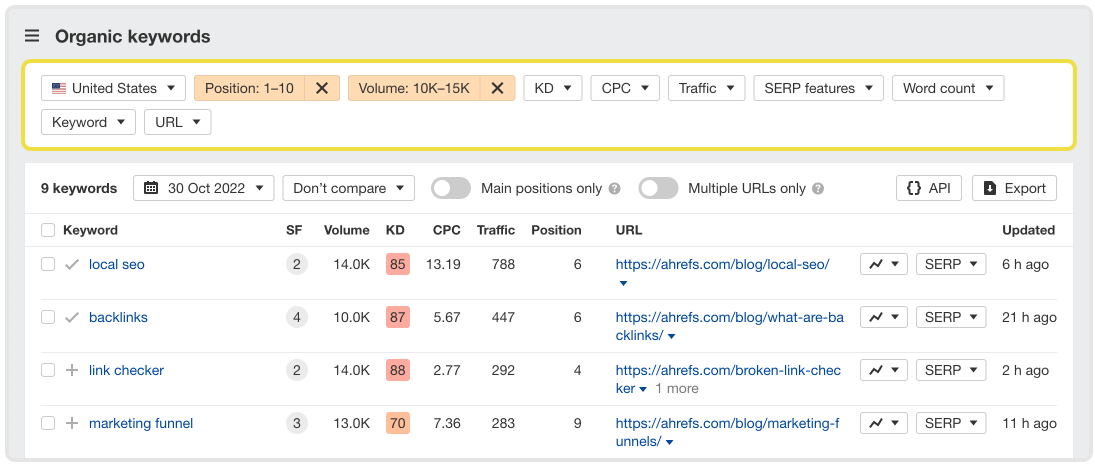 You can view the current position, search volume, total traffic, keyword difficulty, and SERP feature presence (e. g. People also ask) for each keyword in Ahrefs rank tracker tool.
You can also give yourself an extra competitive edge by comparing your website to up to 10 of your competitors. For an even deeper analysis of your rivals, leverage features such as the site explorer to uncover useful insights like backlinks, organic keywords, and content gaps.
You can also employ Ahrefs to execute a site audit, utilize the keyword explorer to analyze search phrases for your content, and much more.
Majestic SEO does not offer rank tracking, but rather is a backlink analyzer that allows users to view the backlinks directed to their website and those of their competitors.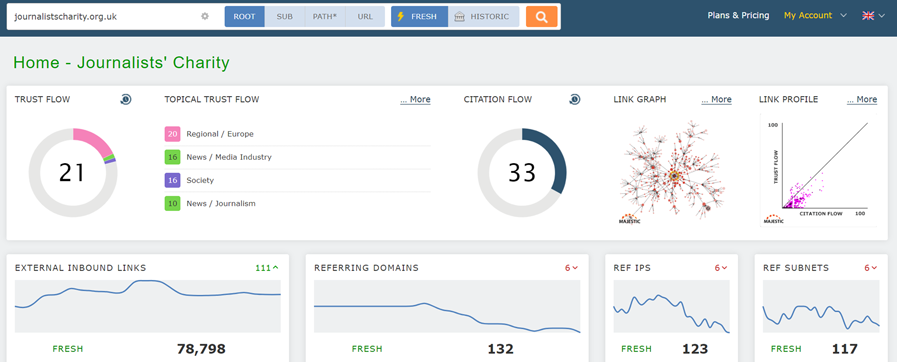 You can see the number of links, the type of links, and the quality of those links. This gives you insight into how search engines evaluate them.
The system consists of a "Trust Flow" and "Citation Flow" metric, both of which indicate the caliber of a website's backlinks based on the quality of websites talking about it. Additionally, it possesses a Site Explorer, which allows customers to inspect the backlink account of any website, comprising an explanation of the link text used in the links and the number of follow or nofollow links. Nonetheless, there are no means for tracking keyword ranks.
SE Ranking offers an excellent tool to track search engine indexes for your business. It is user-friendly and straightforward so that you can keep up with your SEO efforts. Utilizing the keyword ranking tracker, you can keep track of key words for Google, Yahoo, Bing, Yandex, and YouTube depending on geographical areas and devices.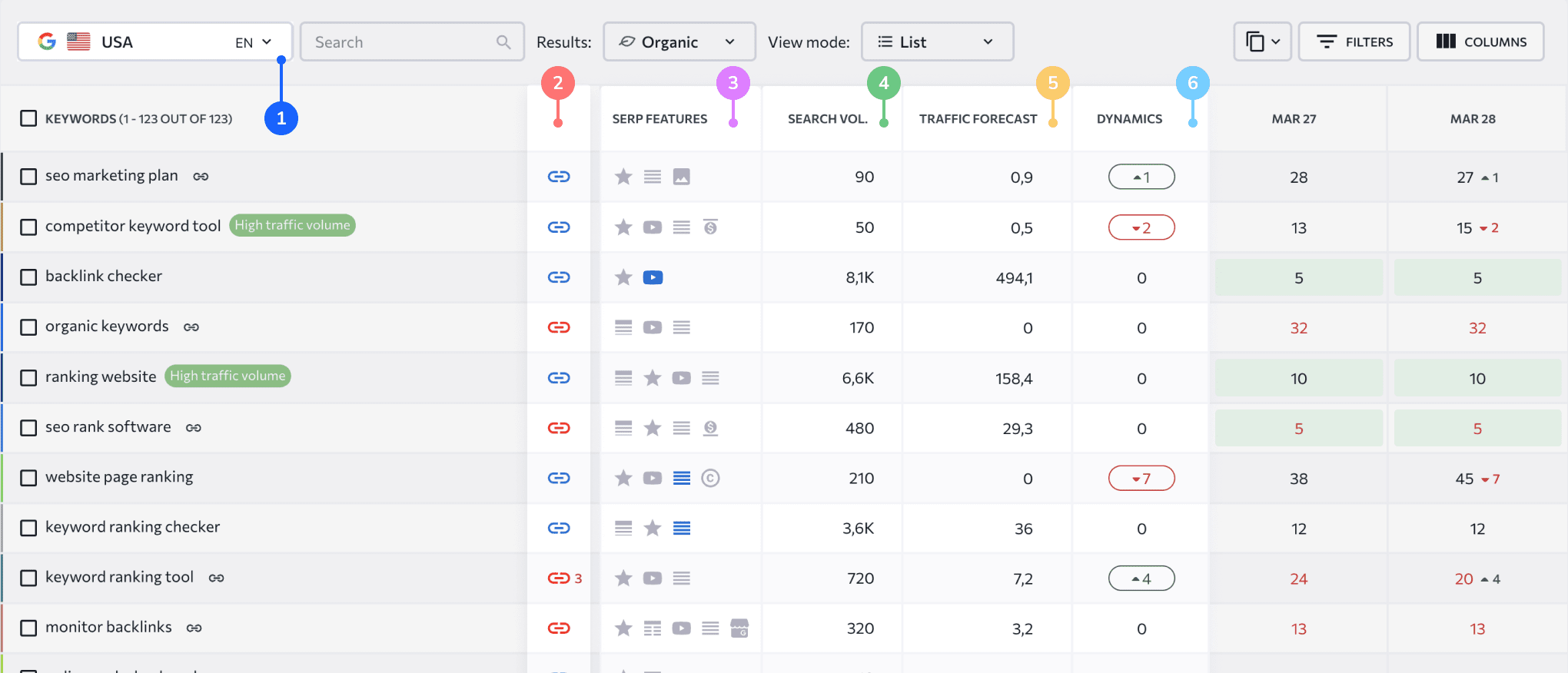 All you need to do is enter the URL of your website in the SEranking wizard, add keywords for tracking purposes, and specify which search engine and country should be used for tracking.
You can monitor a maximum of five of your competitors by using SE Ranking in addition to connecting it to a Google Analytics and Google Search Console account. This tool's dashboard offers a range of options like tracking your rankings, consulting past data, inspecting rival performance, and more.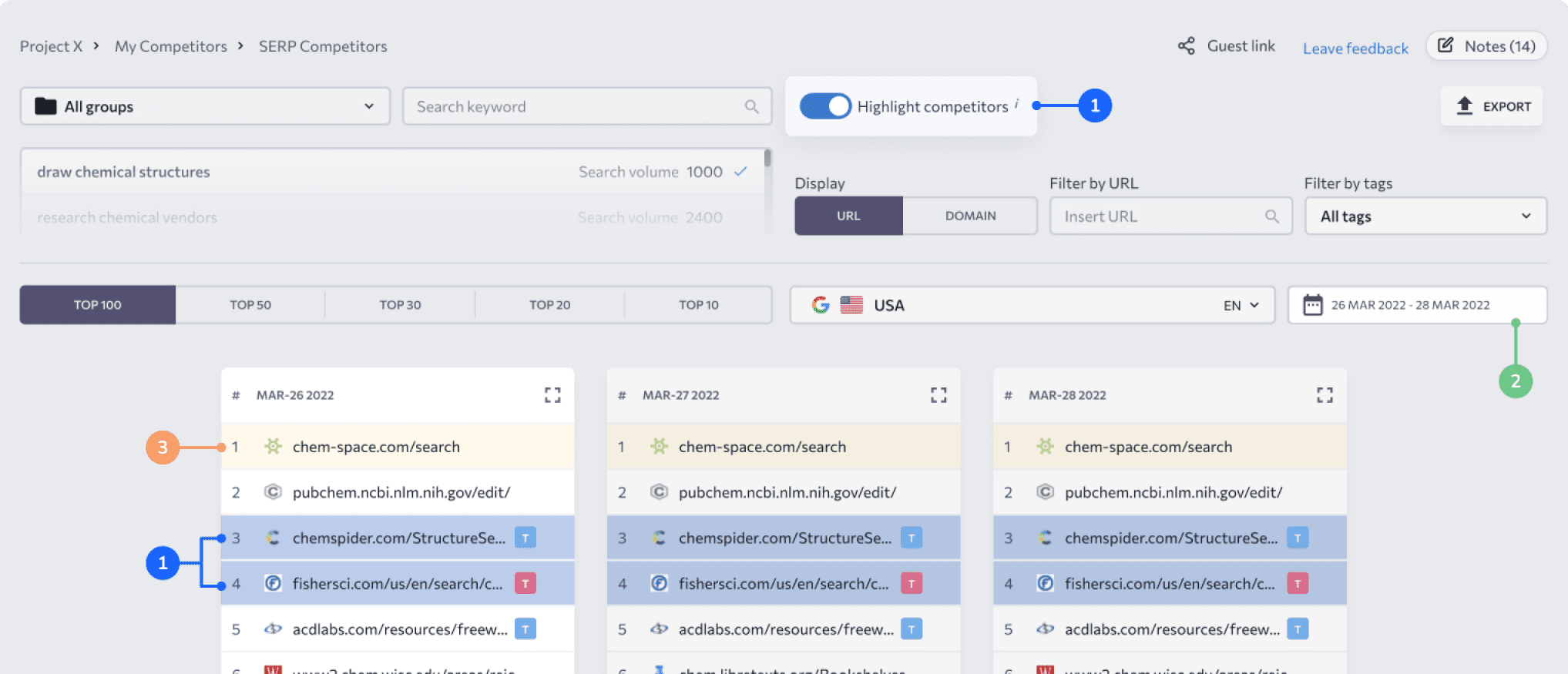 Apart from search engine optimization, is ranking will help you to examine your traffic, calculate SEO potentiality, generate a marketing plan right away, inspect webpages for errors or bugs, keep an eye on backlinks, and a lot more.
Keep tabs on your rankings over the long haul and measure your achievements against those of your adversaries. Utilize TextScout: Rank Tracker interactive graphs to get a visual of your SEO success. Get a look at visibility — observe what portion of the clicks from organic search results come to your site.
Average position & visitors — view an overview of your development over time. Positions distribution — track where you are positioned segmented by categories — positions #1–3, positions #4–10, positions #11–100, and NON-positions.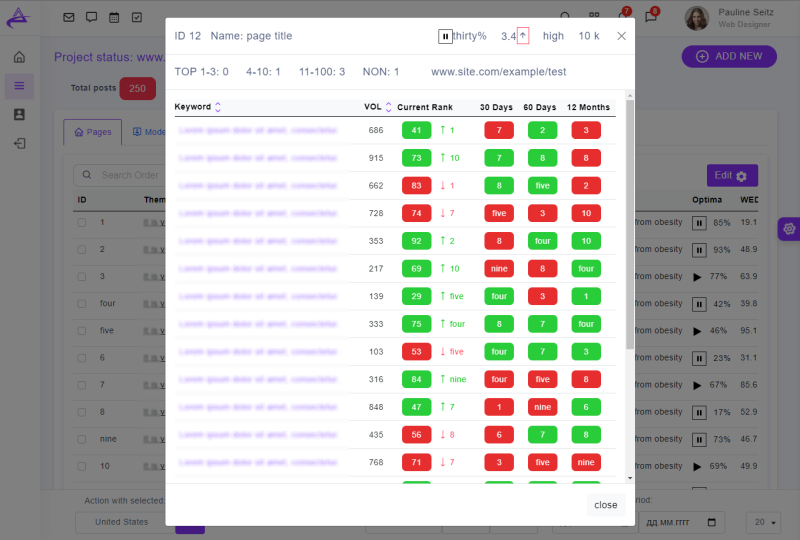 Obtain a collection of noteworthy SEO measurements for all the keywords you're checking: visibility: gauged bit of all clicks from tracked keywords to your website.
The average standing report can be used to measure the changes in rankings of monitored keywords over time. It displays a general total of organic traffic from watched key terms, as well as the uplifts and declines in rankings of each keyword. As the report is updated regularly, the data remains fresh. Through this, one can determine if their ranking has improved or decreased.
SEO tool "VS" comparison table
See below to find out if TextScout is a better SEO resource than other available tools. The information shown is pertinent to the least costly plan.
| | TextScout | SemRush | Mangools | Moz | Ahrefs | Majestic | SEranking |
| --- | --- | --- | --- | --- | --- | --- | --- |
| Organic keyword difficulty | + | + | + | + | + | - | + |
| Keyword management | + | - | + | + | + | - | + |
| Keyword suggestion | - | + | + | + | + | - | + |
| Keyword/landing page metrics | + | + | + | + | + | + | + |
| Keyword rank tracking | + | + | + | + | + | - | + |
| Keyword update frequency | Daily | Daily | Daily | Weekly | Weekly | Daily | Daily |
| Tracked keywords | 1000 | 500 | 200 | 300 | 750 | - | 250 |
| Keyword research | - | + | + | + | + | - | + |
| User management | - | + | + | + | + | + | + |
| PPC metrics | - | + | + | + | + | - | + |
| Competitor analysis | - | + | + | + | + | + | + |
| Website audit | - | + | + | + | + | - | + |
| Backlink monitoring | - | + | + | + | + | - | + |
| SEO reports | + | + | + | + | + | - | + |
| SEO suggestions | - | + | - | - | - | - | + |
| SEO potential | + | - | - | - | - | - | + |
| Tracked websites limit | 2 | 5 | ... | 5 | 1 | 60 | 10 |
| Pricing | free | $120 | $53 | $99 | $99 | $49 | $39 |
| Whitelabel reports | - | + | - | - | + | - | + |
This article on rank-tracking tools is here to guide you in finding the best software for your objectives. In case you are not familiar with the concept of rank tracking, our comprehensive guide on how to monitor seo performance and what metrics are essential should be read.
What Influences Keyword Ranking in Search Engine Results?
Keyword rankings can be influenced by a variety of factors, including content quality, backlinks, social media activity, and the overall relevance of the keyword to your website. Such elements consist of:
Relevance: how pertinent your website and its content are to the targeted keyword is pivotal when ascertaining your rank.
Authority: search engines, like Google, take into account the authority and reliability of your website when deciding its ranking. The quality of the stuff on your website — from length to freshness — is a major factor in how it ranks.
Additionally, how people interact with the website (speed, navigation, design) also plays a part.
Lastly, backlinks from prestigious sources can help get you higher up in the rankings; however, dodgy or irrelevant connections won't do you any favors.
Additionally, optimizing your website for specific keywords can help improve keyword rankings.
Rank tracking tool FAQ
What causes keyword rankings to vary?
The SERPs can experience substantial changes due to a variety of causes. A powerful website might post new material optimized for the desired keyword, which results in it outranking other sites and pushing them down the rankings. Algorithm updates are also a major factor behind fluctuating rankings; search engines like Google often modify their algorithms, which can lead to alterations in the ranking landscape. Minor tweaks to the Google algorithm occur more than 500 times a year, generally known as the «google dance».
Does ranking position depend on location?
It is possible to personalize ranking results for every single user who conducts a search. Numerous elements play a role in the outcome that a person is shown, but the searcher's geographic location is especially significant. Whenever someone performs a local query, Google assesses the distance to determine which business listings will be given priority in terms of rank. The significance of picking a rank monitor that allows you to monitor local positions in explicit territories should not be overlooked.
How can rank-tracking tool users measure the ROI of their SEO efforts?
Rank tracking tools can help users measure the ROI of their SEO efforts by tracking rankings, analyzing competitor performance, looking at conversion rates, and calculating the revenue generated from SEO versus investment. Other metrics that can be tracked include organic visitors, time spent on the website, and pages visited.
What steps can I take to raise my standing in the rankings?
A good way to raise your website's profile in search engine results is to employ search engine optimization (SEO). This means customizing your web pages to meet the standards governing rankings. There are numerous approaches to elevate your site, but it could be sensible to start by doing a full-scale audit of your site in order to identify any major technical SEO issues that could stop you from reaching higher rankings in search engine result pages.
Why does my rank-tracking tool data not match the results I see on Google?
The outcome of your lookup ranking software may not coincide with what you see when you search on Google. This happens often because of personalization, geo-targeting, or being seen in searches only for a short time. The ranking is a combination of art and science and can differ between devices and areas. If the correlations from your checking mechanism don't match what you find somewhere else, begin by observing these components: confirm that the keyword being tracked is employing the same language and area as the hunt engine. Be sure to check that the device type you're using (e.g. Desktop, mobile) corresponds with the search engine you are using.